For Your Little Fairy
---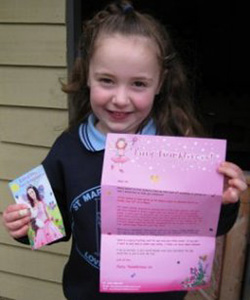 Special letter…all the way from Fairyland!
Every birthday girl and boy receives a personalised sparkly pink letter from Fairy Twinkletoes before their big day. A delightful beginning to a truly magical birthday celebration!
Izel has been extremely excited since receiving your letter, and has been walking around with the letter, in the envelope, clutched in her hand. It must be the excitement of receiving her first letter, addressed just for her and it's from a Fairy, BONUS!
Lutfiye Tahseen, Taylors Lakes
Her response to your letter was priceless! She hasn't stopped kissing your picture and dancing around singing 'Fairy Twinkletoes'.
Anne Mavor, Mt Evelyn
---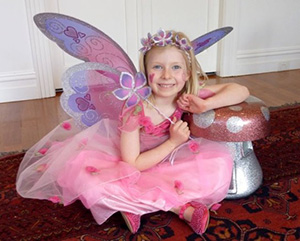 A Sparkly Mushroom to Sit Upon!

Every little birthday girl gets to sit on a very special birthday mushroom, to make sure she truly feels like a real fairy princess on her big day!

---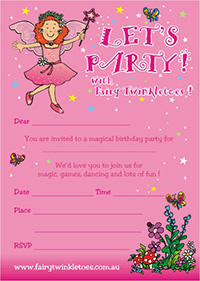 Fairy Twinkletoes Invitations!

You will also receive complimentary Twinkletoes party invitations, posted directly to you from Fairyland!
---

We received Mia's letter yesterday and quietly placed it at the bottom of the garden for her to 'magically' find when we were outside.. blowing bubbles for the fairies. She was thrilled and believes you had really flown by to deliver it to her! ..The Sweet Dream Card was a huge hit and she has been carrying it around everywhere, putting it under her pillow every night!
Sonja Jarred, Hillside
---
Genevieve has just received your gorgeous letter. She was so thrilled and excited she was shaking! The letter was brilliant.. Genevieve wanted to know "how does Fairy Twinkletoes know all about me?" and of course the answer to that was "MAGIC!"
Deanna Oldham, Box Hill South
---
We've had the most gorgeous moments this week receiving our special fairy letter. We helped Ali to write a letter to the fairies, asking them to send a lovely fairy for her party. So she wrote the letter and we put it out near the cubby, a magical place for the fairies to pick it up. Then the letter was "magically removed" and fairy dust left behind! When your letter arrived Ali found it out by the cubby and she was amazed to hear what you had written and that you knew so many things about her! She is so excited about her party and can't wait to see you and Rufus (her little sister Jess is rapt too!!!) Thank you so much for these magical moments.
Jenny Hendrie, Wandin North
---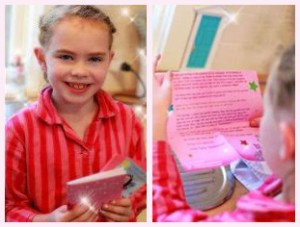 Hi Fairy Twinkletoes :) It was a great success! Hettie was THRILLED! She keeps walking around saying – "She is a real fairy, a real fairy and she came to my house!" She can't get over the fact that you knew about her fairy door and the ballet exam – thank you SO much for sprinkling us with a little more of your fairy magic!
Cree Oliver
---
When I asked her where you might deliver the letter, if you were to reply to hers, her response was immediate –
"in my bedroom!". I suggested we go look. She started pulling the pillows off her bed and when she saw the pink
envelope was addressed to her she got so excited! She asked me to read it and her reaction was priceless!
"She knows about Stuart and Boris and Sasha AND PRISCILLA my dance teacher!? She must really be MAGIC!!!!"
Rita Portelli, McKinnon